Best UK Cities for a Digital Detox
In today's fast-paced, digitally-driven world, the peaceful luxury of disconnecting from technology has become a precious commodity.
To aid those seeking a respite from digital noise, we conducted a data-led study to identify the top 10 most and least favourable UK cities for a digital detox. By reviewing each city's respective safety scores, population density, traffic levels, local spa availability, Wi-Fi reliance, and the number of local tours available; our aim is to help you find the perfect sanctuary to rejuvenate and reconnect with yourself and the world around you.
Top 10 Best Cities for a Digital Detox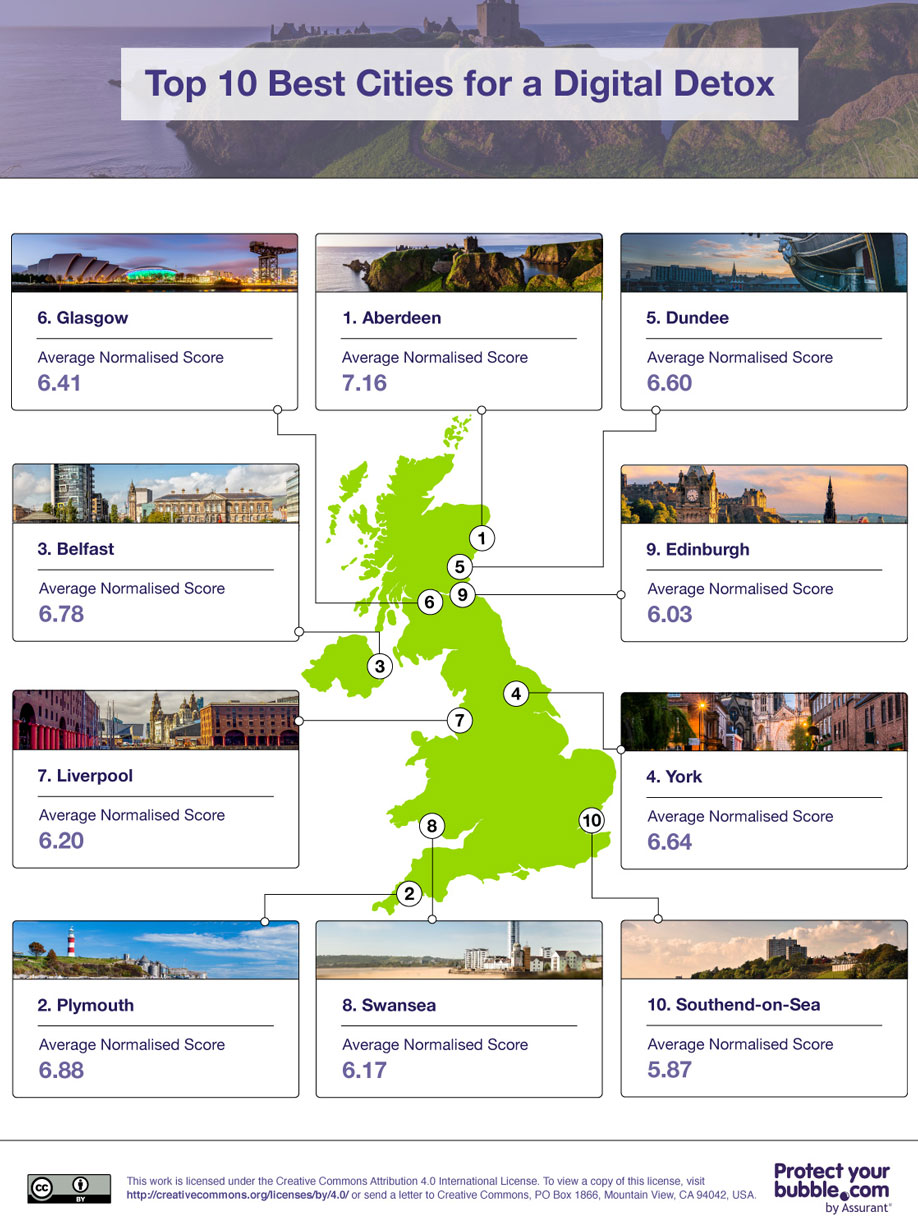 1. Aberdeen
Known as the "Granite City" for its stunning architecture, Aberdeen tops the rankings claiming the title of best UK city for a digital detox.
With a crime rate of 68.9 crimes reported per 1,000 people, you can enjoy visiting iconic locations like Marischal College, Castlegate, and Duthie Park, and the city's high-scoring local spas (9.08/10 average) will ensure your trip is rejuvenating.
2. Plymouth
Situated on the south coast of England, Plymouth's moderate population density of 4,346 people per km², ensures you can still find serene spots to connect with nature. The city also boasts excellent spa facilities (9.21/10), making it easy for you to unwind and disconnect.
3. Belfast
The capital city of Northern Ireland, offers a unique blend of history, culture, and tranquillity, making it an ideal destination for a digital detox. Embrace the endless number of local tours (5.4 per km²) that delve into Belfast's rich history and natural beauty. Belfast has the 3rd most tours within the cities studied.
4. York
York, a city steeped in history and charm, offers an ideal setting for a technology-free getaway.
Wander through the ancient streets, visit the medieval York Minster, and take leisurely strolls along the river Ouse. Alongside Belfast, York offers among the highest number of tours (3.8 per km²) in comparison to the rest of the UK. This array of guided tours will educate you on the city's rich heritage.
5. Dundee
The charming city located on the eastern coast of Scotland closes the top 5 out.
With 87 crimes reported per 1,000 people, you can roam around the city's scenic landscapes and cultural attractions, and the low population density (3,159/km²) ensures you have plenty of space to unwind.
The Rest of the Top 10
In 6th place, you'll find Scotland's largest city, Glasgow, which offers a blend of urban excitement and serene spaces for a digital detox. The city's safety score of 77 crimes reported per 1,000 people means you can explore its vibrant cultural scene, and, additionally, Glasgow's local spas averaged the highest rating (10) throughout the whole study.
Famous for its rich musical history, 7th place Liverpool offers numerous tours, including celebrations of The Beatles and maritime heritage, making your detox experience one to remember. Liverpool offers an engaging setting, but despite the city's bustling nature, its moderate population density allows for quieter retreats, providing you the space required to fully unwind. Additionally, 36% of hotels do not provide Wi-Fi (2nd highest overall), forcing many to detach from work life.
Nestled along the coast of Wales, Swansea's (8th) low population density (3,348 people per km²) offers a tranquil space to explore the endless coastline. Swansea's low Wi-Fi reliance also discourages any screen time. While the number of tours may be limited, the city's natural beauty and maritime heritage will still captivate you.
Scotland's enchanting capital offers a serene ambience meaning you can fully immerse yourself in Edinburgh's (9th) rich history and awe-inspiring architecture.
Situated on the south-eastern coast of England, Southend-on-Sea (10th) offers leisurely tours to explore Southend's iconic pier, charming gardens, and maritime history, enhancing your digital detox experience.
10 Least Favourable Cities for a Digital Detox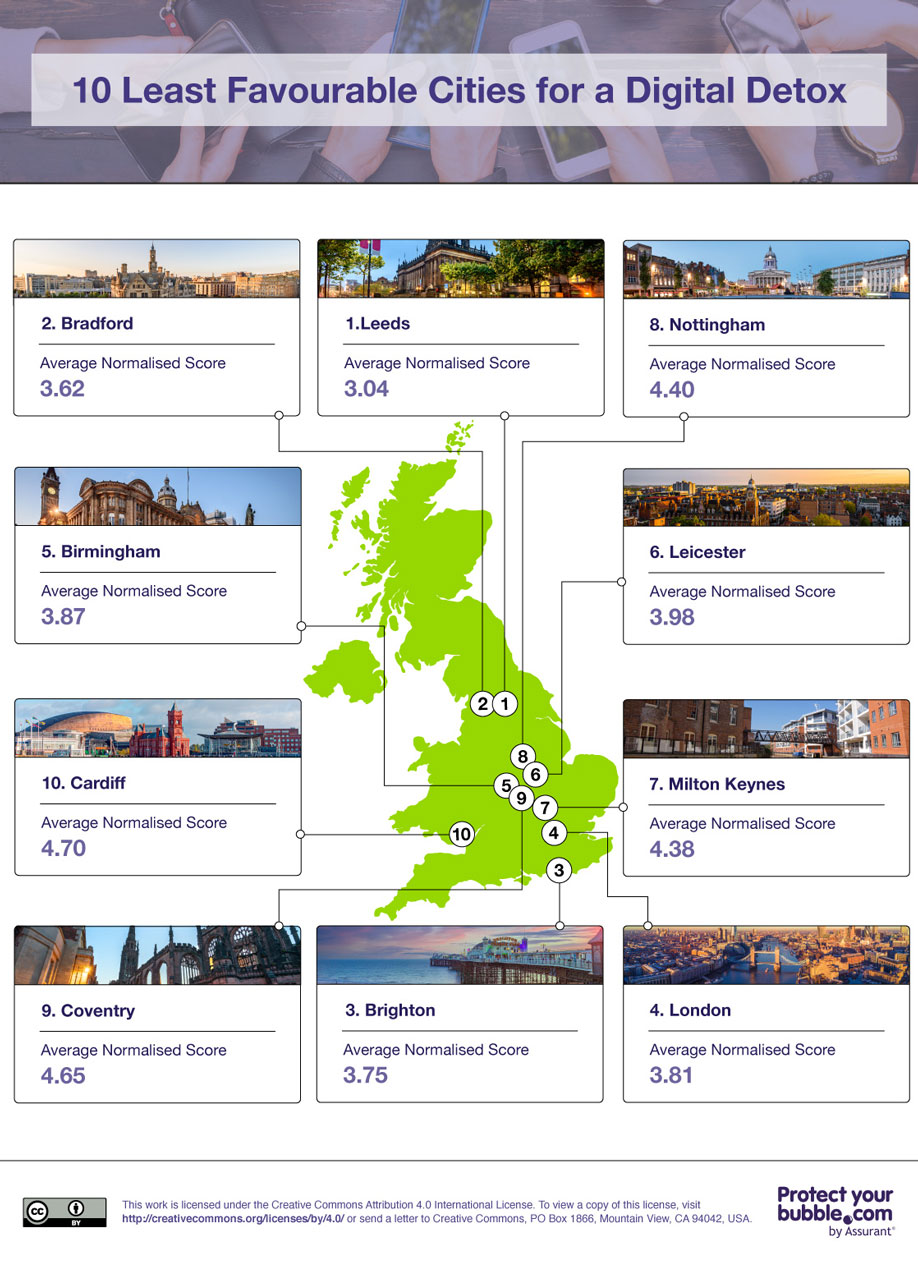 1. Leeds
Leeds, a bustling city in West Yorkshire, England, ranks as the least favourable city for a digital detox due to its high population density (4,466 people per km²) and extensive traffic. In fact, vehicles travelled about 3.75 billion miles in the city in 2021. Separately, the city does offer reasonable local spa ratings (5.68 average), though in terms of activity, the tours are limited.
2. Bradford
Bradford, located in West Yorkshire, faces similar challenges to its neighbouring city, Leeds. With an even higher population density (5,236 people per km²) and significant traffic levels, finding moments of tranquillity might be harder. However, the city does force a reduction in screen time – given over 27% of hotels do not offer Wi-Fi.
3. Brighton
While a charming seaside city, Brighton still poses challenges for a digital detox. With a very high population density of 6,601 people per km², finding serenity in this bustling city can be tough. Additionally, poor average spa ratings (1.26) won't offer the level of relaxation others could. Finally, although there are a fair number of tours available, the city's busyness may hinder your ability to immerse yourself fully in the detox experience.
4. London
The vibrant capital is a bustling metropolis with a very high population density of 7,409 people per km², which makes finding quiet moments challenging. Noticeably, the study deems London as the most Wi-Fi dependent, given only 4% of hotels do not offer Wi-Fi (lowest overall).
5. Birmingham
Birmingham, a bustling city in the West Midlands, may pose difficulties for a serene digital detox. With extremely high heavy traffic levels (3.2 billion miles travelled by motor vehicles), finding tranquillity in the city can be challenging.
The Rest of the Top 10
Leicester (6th), though culturally rich, the city's urbanity and very limited tour options (0.05 tours per km²) may impact the effectiveness of your digital detox experience.
In 7th, Milton Keynes offers a challenging environment for a digital detox as the overall atmosphere may not be as conducive to relaxation as more tranquil settings.
Nottingham's (8th) contextually low traffic levels (944 million miles travelled by motor vehicles) would offer a calming environment if crime hadn't risen so much in recent years. With a poor safety score due to 125 crimes being committed per 1,000 people, the city cannot offer a settled landscape for detox trips.
In 9th place, Coventry's similar escalation of crimes in combination with limited tours available, has no doubt impacted the overall digital detox experience.
Finally, closing out the 10 least favourable cities for a digital detox Cardiff (10th), Wales's vibrant capital city's largest downfall is its reliance on Wi-Fi. The city holds the 3rd lowest number of hotels not offering Wi-Fi, suggesting it's difficult to escape any digital pressures.
Methodology
To gather and average the results effectively, these respective data point results were normalised and averaged overall. Where necessary, the normalisations were inverted – for instance, Wi-Fi Reliance, Safety, Traffic levels, and Population Density were all inverted as we perceived the lower scores as a positive contribution toward one's digital detox.
Each data point consists of the latest research available from reputable sources. The data was standardized using min-max normalization. The min-max normalization value is multiplied by 10 to create a score (between 1-10). A score of 10 is always the best result, while a score of 0 is the worst. Each city is then ranked on their overall average rating across all data points from city-level data.
Data Point Sources:
No. of Tours per km2 – Using Viator, each city's no. of tours was divided by their area (km2), found through CityPopulation.
Safety – Crimes per 1000 people, found through http://crimerate.co.uk/
Population Density – Used CityPopulation's individual scores.
Traffic Levels – Total vehicle miles by area, through https://roadtraffic.dft.gov.uk/local-authorities
Local Spa Quality – Rating of each city's first-page spa results on Trivago, filtered by distance.
Wi-Fi Reliance– No. of hotels offering Wi-Fi on Trivago