The Most (and Least) Dangerous Regions for Gadget Theft
Most of us have experienced the sinking feeling associated with losing a prized gadget like a mobile phone or a tablet. Panic takes over and you find yourself frantically searching around and trying to retrace your steps.
Sometimes, you come to the realisation that it's gone for good. If a stranger has managed to get their hands on your pride and joy, that can result in further risks to your personal info and privacy.
There were reports of 267,000 home burglaries in 2021. Phones are one of the most stolen items in all robbery cases, and TVs, tablets, and smart devices are still targeted by home burglars too.
The research team at Protect Your Bubble submitted Freedom of Information (FOI) requests to all local police forces in the UK to identify where the most gadget and phone theft occurs. Want to know how safe your region is? Check out our list of theft hotspots below:
The Most Dangerous Regions for Phone & Gadget Theft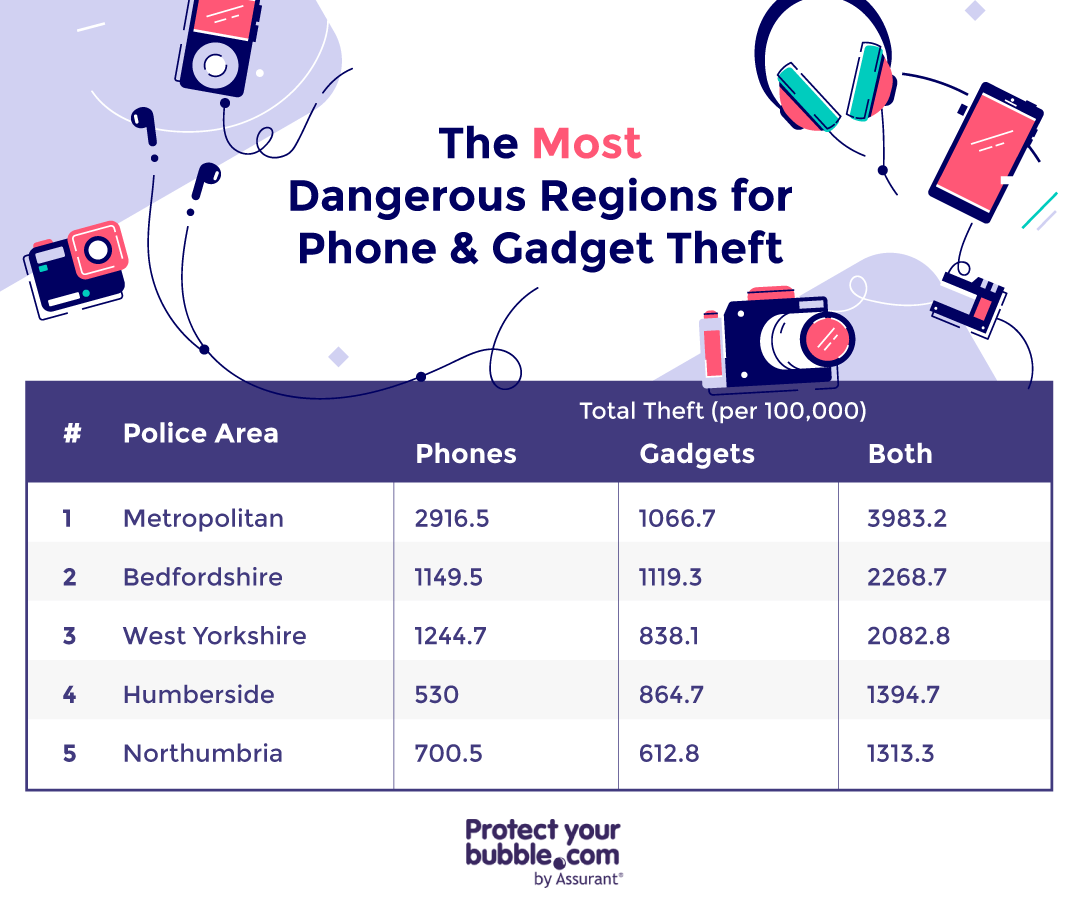 The Metropolitan police force, which services Greater London, took the top spot for the most gadget thefts with 3,983.2 thefts per 100,000 people. This is well over a thousand more than the second-largest gadget theft hotspot, Bedfordshire – which reported 2,268.7 thefts per 100,000 over the past four years.
The Least Dangerous Regions for Phone & Gadget Theft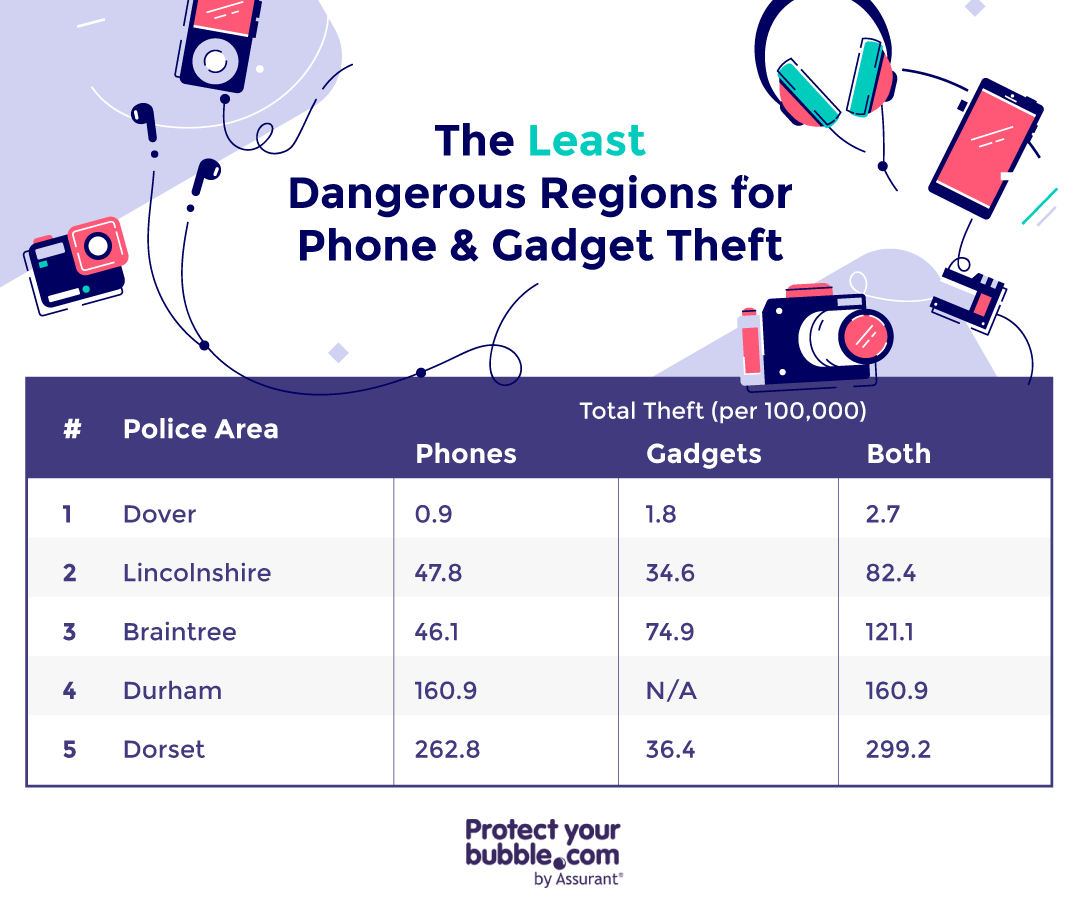 Dover was found to be the least dangerous region for phone and gadget thefts. There were just 2.7 per 100,000 people over the past four years. This comes after recent reports that Dover was named the most dangerous town in Kent.
Lincolnshire (82.4 thefts per 100,000), Braintree (121.1 thefts per 100,000), Durham (160.9 thefts per 100,000), and Dorset (299.2 thefts per 100,000) make up the rest of the top five.
The Most Stolen Gadget Brand Overall
Unsurprisingly, Apple topped the list for the most stolen phone and gadget brand overall. While not every police force recorded brand type, where the brand was recorded, Apple had almost 2.5 times as many thefts as Samsung.
The difference could be down to sheer volume though, as Apple continues to dominate the gadget market. In December 2021, the total market share of iOS, the Apple operating system, in the United Kingdom reached 54.45%. This is up 50.85% from the previous year.
---
---
How Has COVID-19 Impacted Phone & Gadget Theft
COVID-19 affected all aspects of our lives for the past two years, with the UK jumping in and out of lockdowns. It seems that despite everyone being at home; phone and gadget theft was still prevalent. There were even reports of people getting their phones stolen while queuing for a COVID-19 booster jab. Terrifying!
From all the police forces that responded, there were a total of 115,076 phone and gadget thefts recorded in 2020. This is, however, as expected down compared to 2019 – there was a 41% reduction in thefts. Then in 2021, there were 95,374 phone and gadget thefts – this is a further 17% reduction.
Summary
While COVID-19 did inevitably bring in a slight reduction, there were still significant reports of phone and gadget thefts.
Residents of Greater London, Bedfordshire, West Yorkshire, Humberside, and Northumbria are all at high levels of risk. While residents of Dover, Lincolnshire, Braintree, Durham, and Dorset are less likely to become victims. Still, regardless of where you live, it's important to always remain vigilant and not be lured into a false sense of security.
Apple gadgets tend to be preferred, but the reality is (especially with smartphones), thieves aren't likely to register an interest in a specific brand. They typically grab whatever they can get their hands on.
If you are a victim of mobile theft, make sure you contact your network provider straight away. They can block outgoing calls to stop anyone from using the device. Always report phone and gadget theft to your local police station and follow their guidelines too.
Our Research
All FOI requests were submitted in November 2021, and estimates were made on the average monthly thefts to get full data for 2021. Out of 49 police forces in the UK, 22 forces responded to us with data.
We requested data on phone and gadget theft individually, while requests were also made for brand and gadget type. However, not all police forces recorded this information.