The Most Profitable & In-demand Retro Phones on eBay
Mobile phones have been around for almost 40 years, with new models and new manufacturers appearing each year. At Protect Your Bubble we wanted to find out which retro phone could make you the most profit when sold on eBay. How many of these retro phones do you have lying around?
The Most Profitable Retro Phones on eBay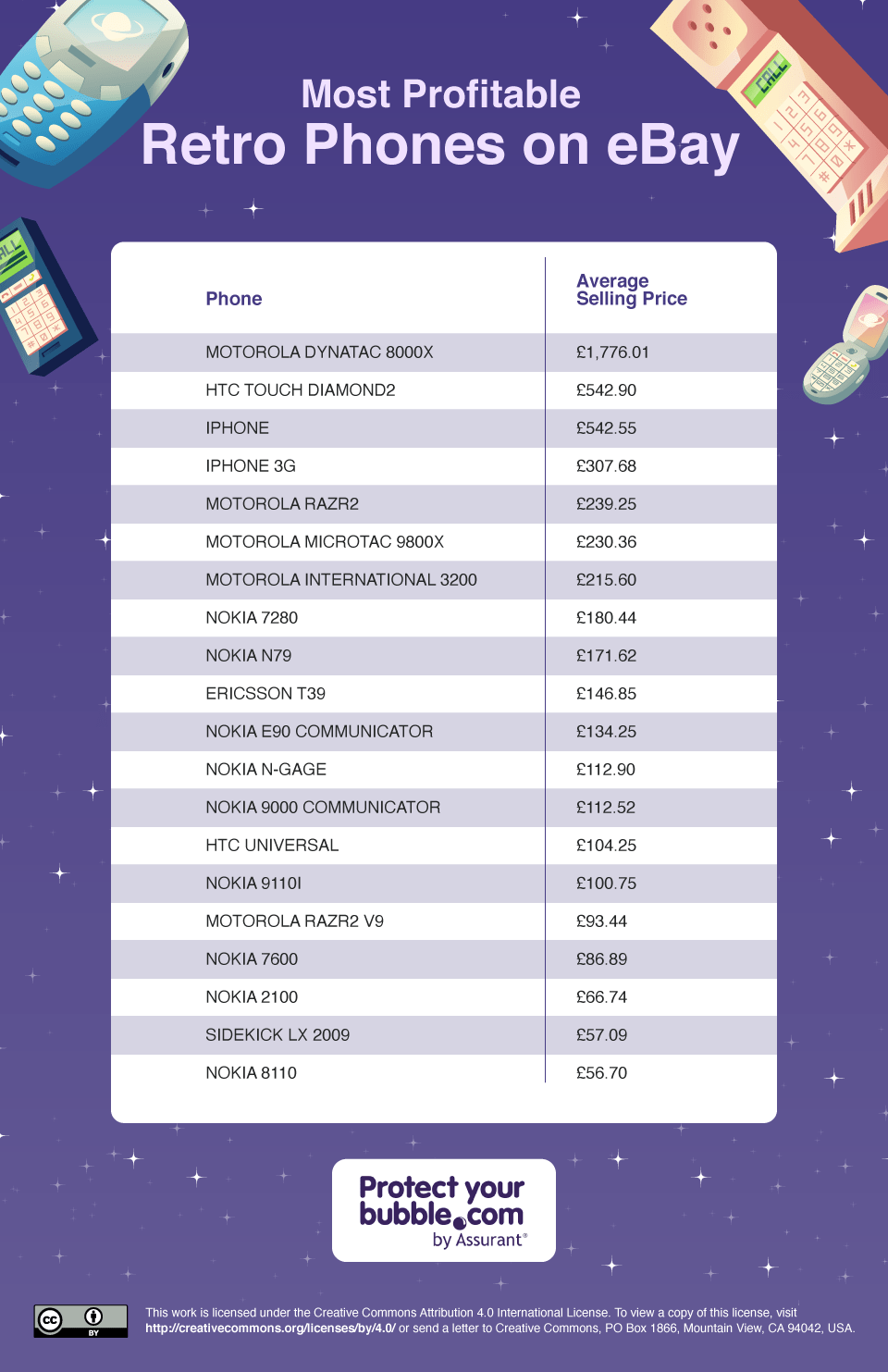 At the top of our table, we have the Motorola DynaTAC 8000X. You can't get a more retro phone than the first commercially available mobile. With an average selling price of £1,776.01 and a total of 12 sold in the last year on eBay, this phone is truly one for collectors.
The second most profitable phone is the HTC Touch Diamond2 or 'HTC Topaz', of which only one was sold in the last 12 months for £542.90. This is £528.94 more than its predecessor the HTC Touch Diamond, which was sold for just £13.42.
Our third most profitable phone was the iPhone 1st Generation, with an average selling price of £542.55. Perhaps one of the most well-known phone models, the original iPhone was sold just 61 times last year on eBay.
The Top Grossing Retro Phones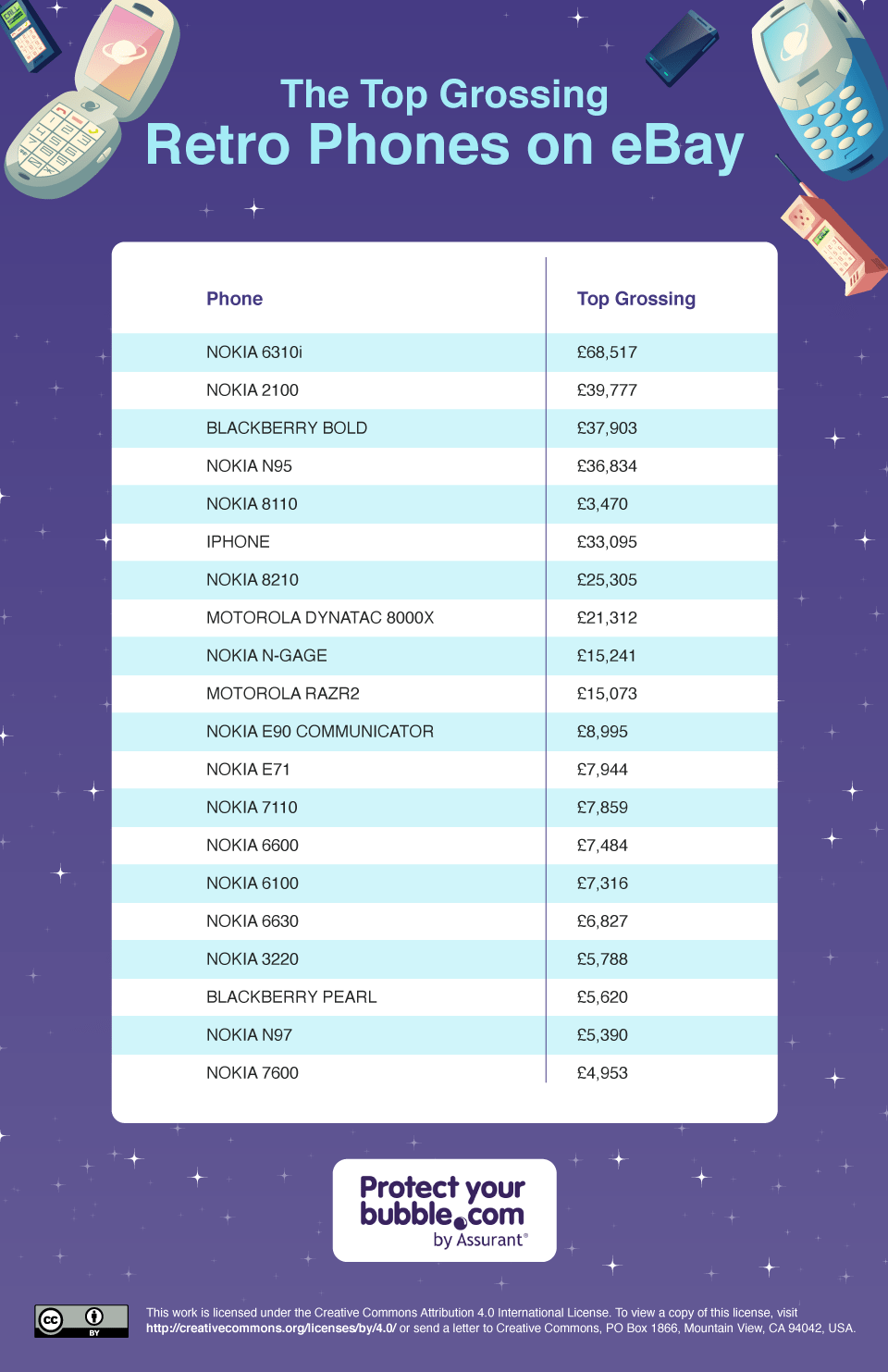 Our top grossing retro phone was the Nokia 6310i with a whopping £68,517 grossed in the last 12 months. Released in 2002, this retro phone had an average selling price of £47.45, meaning 1,444 were sold in the last 12 months, the second most of all our phones researched.
Our second top grossing phone is the Nokia 2100. In fact, 15 of our top 20 grossed were all Nokia phones. The Nokia 2100 grossed £39,777 over the last 12 months. Our third top-grossing phone was the BlackBerry Bold with £37,903 grossed over the last 12 months. This year, in January, BlackBerry's legacy software was decommissioned, possibly spurring more nostalgic purchases.
The Most In-Demand Retro Phones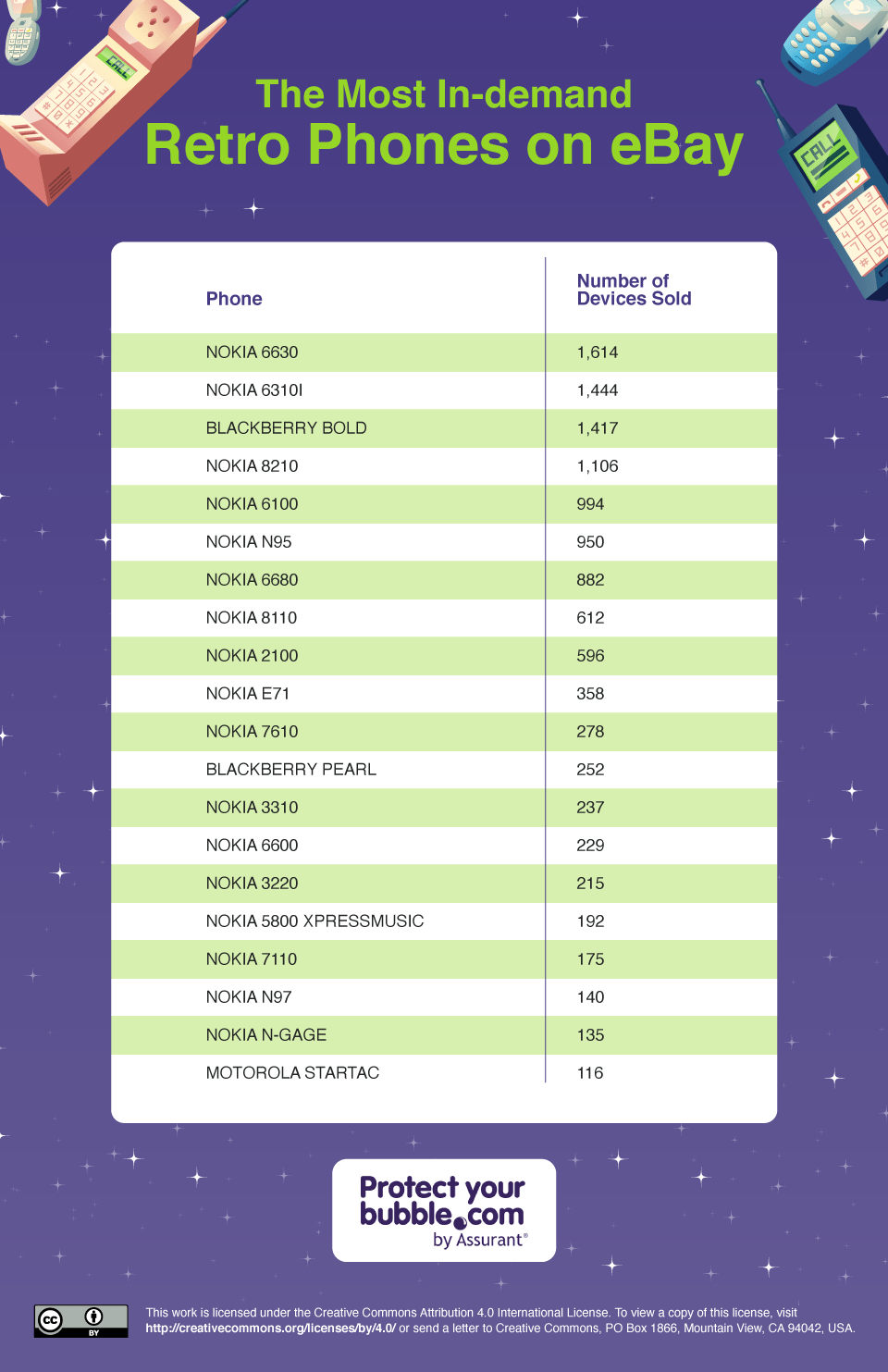 Our most in-demand phone was the Nokia 6630 with 1,614 sold. With an average selling price of £4.23, this phone grossed £6,827 over the last 12 months. Our second most in-demand was the Nokia 2100. 17 of our most in-demand phones are Nokia's, so clearly there is a lot of demand for old-school Nokias. Our third most in-demand phone is the Blackberry Bold with 1,417 sold in the last 12 months.
There's a huge market out there for retro phones. Whether that's a collector looking for the next vintage phone, a user desperate to go get the nostalgic feel of their childhood handset, or even a user looking for simplicity over the latest tech.
Luckily, we've done the market analysis for you, so you know exactly how much you can expect for your retro phone. If you've remembered you've got an old Motorola DynaTAC 8000X, HTC Touch Diamond2, or the original iPhone collecting dust in a draw, you could be sitting on a small fortune.
Summary
Protect Your Bubble used a list of all popular retro phones through time as a sample.
These phones were then input into eBay's own market research tool, Terapeak, to identify top sold and top grossing phones over the past year.
* Data collected from May 2021 – May 2022.