University Accommodation Rates 2022 by Protect Your Bubble
Welcome to Student Debt Life
The emergence of tuition fees in 1998 subsequently placed a spotlight on student accommodation prices.
Most students who choose to stay in halls for their first year will no doubt leave with a plethora of stories. From the highly anticipated flatmate lottery and the following shared kitchen situation, student halls will offer an abundance of social opportunities and security to any unsettled homebodies.
Following the home-oriented nature of the pandemic, the thought of students having to leave their family and take care of themselves may seem daunting. Alternatively, some young people will be itching for their freedom. Nevertheless, student accommodation plays a part in every student's story.
The Most Expensive Student Halls
The most expensive weekly rates vary greatly, with £116.50 separating 1st and 10th place. Some of the UK's finest universities lead this category, meaning there is little short-term financial gain when securing a place at one of these academic institutions.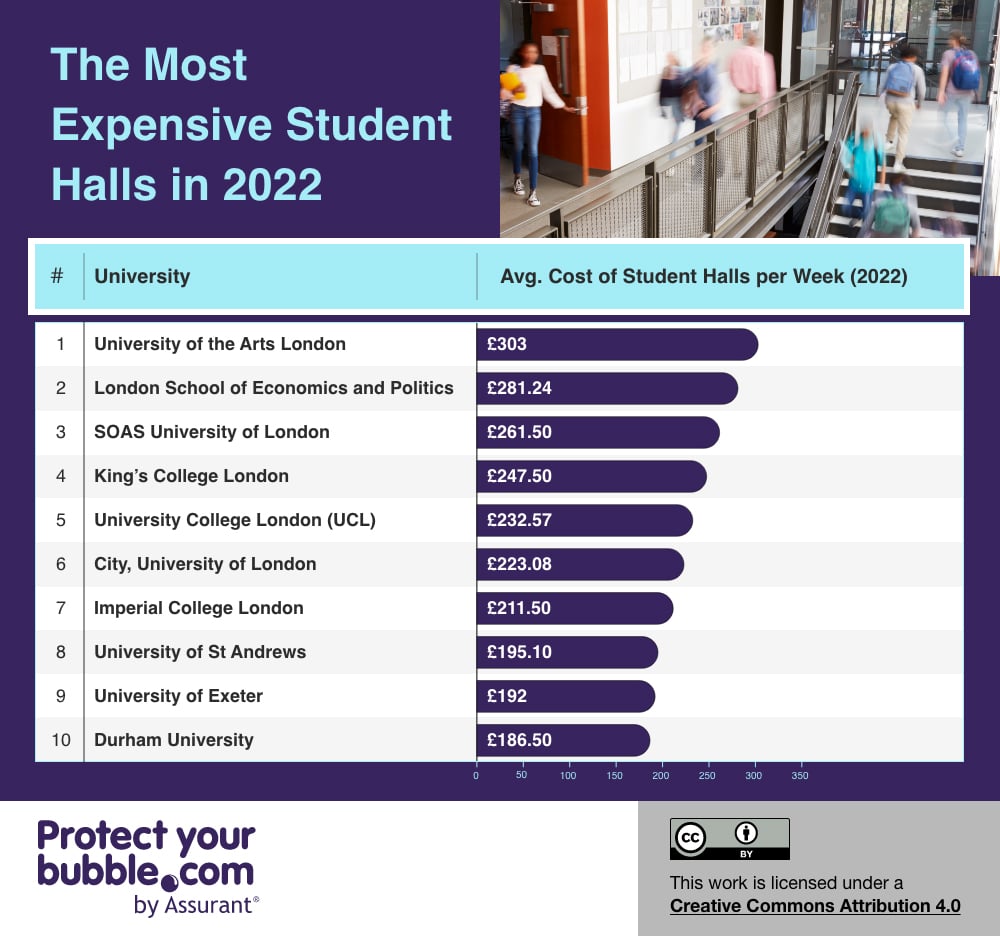 The University of the Arts, London, has the highest weekly average (£303) with certain rooms priced up to £453. London's School of Economics and Politics came in 2nd, averaging £281.24 per week.
Unsurprisingly the top 7 most expensive accommodations reside within England's capital. Excluding London's universities, the remaining Top 10 spots are diverse in location. Scotland's University of St. Andrews (£195.10), the University of Exeter (£192), and Durham University (£186.50) all grasp a place within the top 10.
The Most Affordable Student Halls
Just £8.97 separates the cheapest and 10th least expensive accommodation. The 10 most affordable universities also display locational diversity, residing across England, Scotland, Ireland, and Wales.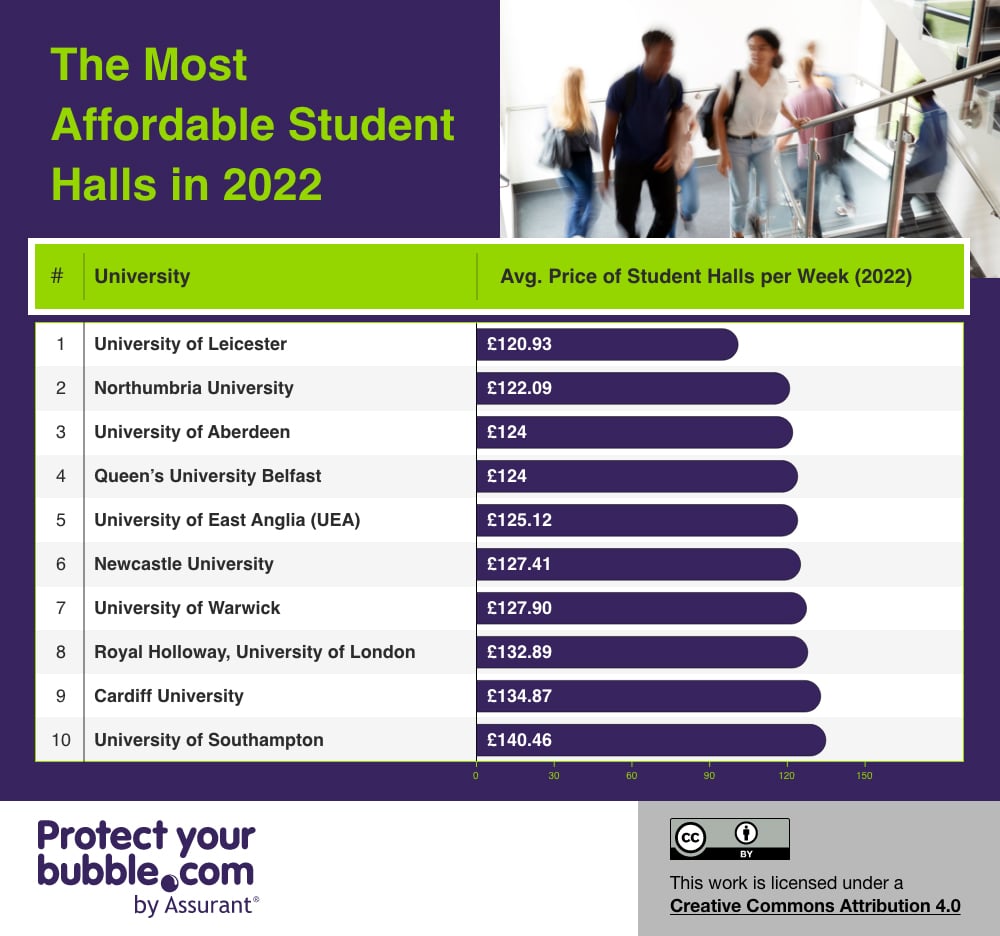 The University of Leicester has been crowned the cheapest, averaging just £120.93 a week. Northumbria University came in 2nd (£122.09), and the University of Aberdeen followed close behind in 3rd (£124).
Financial pressures are lifted when expenses are this low, allowing young people to budget free of any harsh consequences. Students will also have the freedom of maintaining any hobbies or activities they enjoyed before university.
Largest Increases in Student Hall Rates Since the 21/22 Academic Year
Despite the universities 'best efforts' the cost-of-living crisis has impacted many accommodation prices.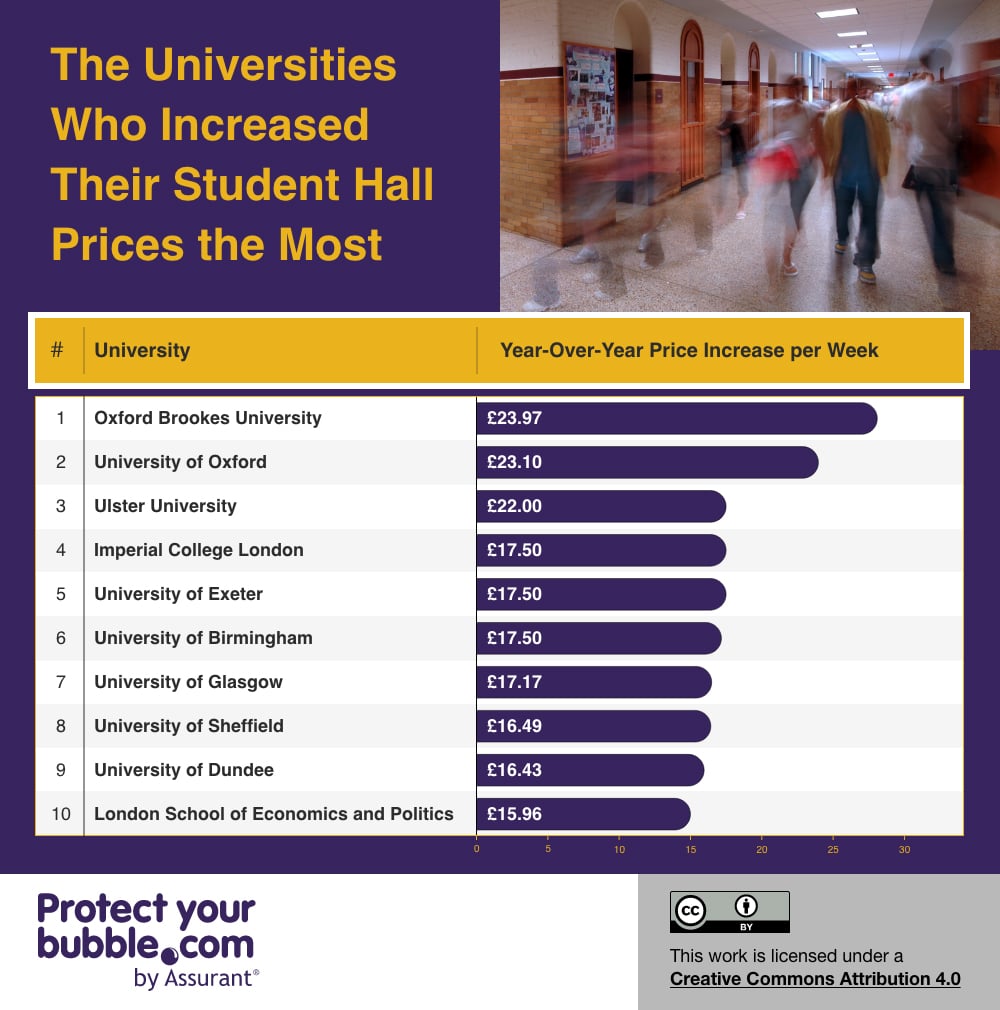 Oxford's cost of living seems to have risen substantially, with 1st place Oxford Brookes University and 2nd place University of Oxford both rising in the region of £23. It will cost you an additional £910,86 to get accommodation in Oxford Brookes' halls and £877.80 if you want to go to the University of Oxford's halls over a 38-week period. That represents a 16.7% and 14.4% increase year on year for both. Ulster University follows close behind in third place, having increased by £22 per week.
Additionally, The University of Exeter (5th) makes another appearance having increased their rates by £17.50, now featuring on both the most expensive and most increased top 10 shortlists.
The Most Reasonable Universities
Certain universities seem to have recognised the cost of living crisis and its impacts on their students. Opting to lower their existing accommodation rates or provide new more affordable options, thus lowering their average.
The University of Nottingham has introduced a £92 per week alternative, lowering their average by £5.87 in comparison to the previous academic year. This was the largest decrease in price seen across all annual comparisons. Newcastle University and The University of London City are among the only other universities that showed a price decrease.
Conclusion
Upon review, many universities reflect the current economic climate, except for those generous enough to lower their prices in aid of the students.
London's prestigious range of universities represented the most expensive, though the most affordable universities were far more spread out in comparison.
When observing the current rates in contrast to the previous academic year, each university's intentions became clear. Some chose to increase prices substantially, whilst others looked to make life more affordable for their residents – the prestigious University of Oxford, unfortunately, chose the former.
Methodology
The 2021/22 and 2020/21 Accommodation prices were manually collected from the University's independent websites. The median was calculated by identifying each university's range of accommodation fees and locating the median of each range.